Cylindrical Grinding Wheels
Cylindrical Grinding is the grinding of the outside diameter of components revolving between centres or while held in a chuck. Cylindrically ground parts are more accurate in size with better finish than those turned on lathes.
Sterling's versatile range of cylindrical grinding wheels are used tor a variety of grinding operations that require size generation, fine surface finish and fast stock removal.
Special wheels are available for multiple diameters and shoulder grinding with the side or the wheel where wheel gradings are adjusted for plunge grinding without any traverse.
Suitable for machines like Landis, Kirloskar Landis, Churchill, Newall, WMW, Praga, HMT, Riat, Toshiba, Norton, Parishudh etc.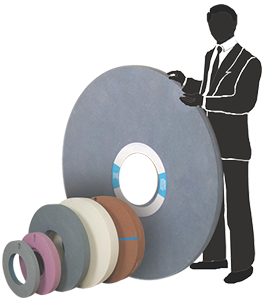 Warning: Invalid argument supplied for foreach() in /web/qlc/sterlingabrasives.com/htdocs/wp-includes/shortcodes.php on line 553
| Material | Grading |
| --- | --- |
| Cast Iron | C46 K5 V4 |
| Steel – Solt | A463 L5 VC10 |
| Steel – Hardened | A463 K5 VC10 |
| Steel – High Speed | AA46/54 K5 VC8 |
| Stainless Steel | C463 N5 V4 |
| Tungsten Carbide | GC60 K5 V4 |
| General Purpose | A463 L5 VC10 |
Warning: Invalid argument supplied for foreach() in /web/qlc/sterlingabrasives.com/htdocs/wp-includes/shortcodes.php on line 553
| Abrasive | Diameter | Thickness | Grit | Hardness | Structure |
| --- | --- | --- | --- | --- | --- |
| A, DA | 300 – 1220 | 6 – 150 | 36 – 120 | I – O | 3 – 6 |
| AA | 300 – 1220 | 6 – 150 | 36 – 180 | I – N | 4 – 5 |
| C | 300 – 1220 | 6 – 150 | 36 – 180 | I – N | 4 – 5 |
| GC | 300 – 1220 | 6 – 150 | 46 – 220 | I – N | 4 – 5 |
Warning: Invalid argument supplied for foreach() in /web/qlc/sterlingabrasives.com/htdocs/wp-includes/shortcodes.php on line 553
| | | |
| --- | --- | --- |
| 300 X 25 X 127 | 350 X 40 X 127 | 500 X 50 X 254 |
| 300 X 40 X 127 | 400 X 40 X 127 | 450 X 65 X 254 |
| 350 X 25 X 127 | 400 X 40 X 127 | – |