Tool Room Grinding Wheels
In the manufacturing and regrinding of cutting tools like Drills, Reamers, Milling Cutters, Gears, Hobs tool room grinding wheel or different shapes are used to sharpen their cutting edges and to obtain required angle.
Operations are carried out on the periphery of plain wheels, Face of Cup Wheel / Taper Cup Wheel and edges of Dish Wheels.
Due to their friable nature and sharp edge retention properties. Sterling's Tool Room wheels give high productivity.
Special bond system imparts following advantages:

Excellent form retention
Dimensional accuracy
Surface Finish

Suitable for machines like Praga Tool and Cutter, PMT, BFW, MTC etc.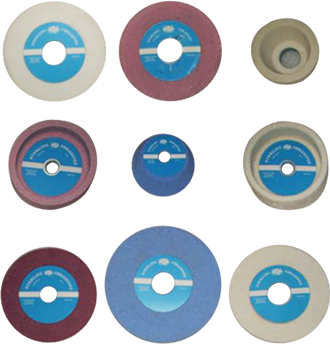 Warning: Invalid argument supplied for foreach() in /web/qlc/sterlingabrasives.com/htdocs/wp-includes/shortcodes.php on line 553
Material
Grading
High Speed Steel
DA46/54 K6 VC8
–
Tool Steel
AA46/54 K5 VC8
–
Tungsten Carbide
GC60 K5 V4
3CG 60 J5 V31
High Alloy Steel
AA60 J8 VC8
–
Special Tool Steel
PAA60 K6 VC8
–
Warning: Invalid argument supplied for foreach() in /web/qlc/sterlingabrasives.com/htdocs/wp-includes/shortcodes.php on line 553
| Abrasive | Diameter | Thickness | Grit | Hardness | Structure |
| --- | --- | --- | --- | --- | --- |
| A | 100 – 200 | 3 – 25 | 46 – 120 | H – L | 5 |
| AA | 80 – 250 | 3 – 25 | 46 – 180 | H – L | 5 |
| GC | 100 – 250 | 3 – 25 | 46 – 220 | H – L | 5 |
| PAA | 100 – 200 | 3 – 25 | 46 – 120 | H – L | 6 |
Warning: Invalid argument supplied for foreach() in /web/qlc/sterlingabrasives.com/htdocs/wp-includes/shortcodes.php on line 553
| | |
| --- | --- |
| 100/71 X 40 X 31.75 (Taper Cup Wheel) | 180 X 13 X 31.75 |
| 100 X 50 X 31.75 (Cup Wheel) | 200 X 13 X 31.75 |
| 150 X 6 X 31.75 | 200 X 20 X 31.75 |
| 150 X 13 X 31.75 | 200 X 25 X 31.75 |
| 150 X 13 X 31.75 (Dish Wheel) | – |