Slip Stones (Blade Shaped) Contact Manufacturing
Sterling is the first manufacturer to introduce Shellac Bonding System in the country. SAL's Shellac bonded wheel renders excellent finish required for the Razor Blade industries.
Sterling is the largest manufacturer of domestic flour mill Wheels in the country. Controlled grain size and special bonding system facilitates smooth grinding of wheat without abrasive contamination. Sterling caters to all the leading flour mill manufacturers in the specific shape required.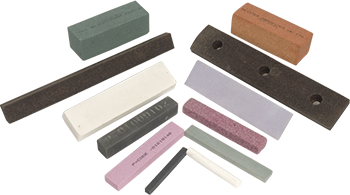 Warning: Invalid argument supplied for foreach() in /web/qlc/sterlingabrasives.com/htdocs/wp-includes/shortcodes.php on line 553
A
C
L
Grit
25
3
100
Medium & Fine
25
6
100
45
10
100
Warning: Invalid argument supplied for foreach() in /web/qlc/sterlingabrasives.com/htdocs/wp-includes/shortcodes.php on line 553
A
C
D
L
Grit
25
6
1
100
Medium & Fine
25
6
1
150
45
10
0
100
45
10
3
100
45
10
2
100