Roll grinding is a specialized form of cylindrical grinding and precision grinding of various kinds of rolls. Roll grinding wheels are used in the re-grinding and production grinding of rolls for the Steel. Brass, Copper, Aluminium, Printing Paper and textile industries.
Sterling's Roll Grinding wheels give excellent finish and are used in grinding work rolls and back-up rolls used In Hot Mills, Cold Mills, Sendzimer Mills, Aluminium Mill, Grinding chrome plated rolls and rubber rolls.
Suitable for machines like Churchill, Hercules, Siegen, Bhiman, Meska, Vikas etc.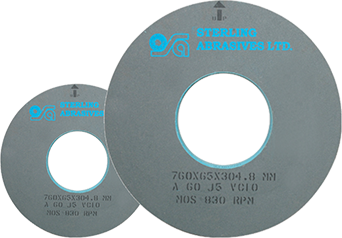 Warning: Invalid argument supplied for foreach() in /web/qlc/sterlingabrasives.com/htdocs/wp-includes/shortcodes.php on line 553
Type of Rolls
Grading
Hardened Steel Rolls
A60-1 J5 V15
GC36 I EFP
FSW 36 I6 BS
GC60 I EEP
GC180 I EEP
3A80-1 H12 V 84
Soft Steel Rolls
A54 N5 V15
–
–
–
–
–
Rubber Rolls
C36 I5 EF
GC80 J5 V4
C30 J10 BS
–
–
–
Ebonite Rolls
AA60 J5 EF
–
–
–
–
–
W.P.S & C.I. Rolls
AA60 J5 V15
C46 J EEP
C320 G EFP
–
–
–
Warning: Invalid argument supplied for foreach() in /web/qlc/sterlingabrasives.com/htdocs/wp-includes/shortcodes.php on line 553
| Abrasive | Diameter | Thickness | Grit | Hardness | Structure |
| --- | --- | --- | --- | --- | --- |
| A, GC, C, DA, FS, MCA | 400 – 915 | 40 – 100 | 36 – 320 – 600 | G – M | 5 – 8 |
Warning: Invalid argument supplied for foreach() in /web/qlc/sterlingabrasives.com/htdocs/wp-includes/shortcodes.php on line 553
| | | |
| --- | --- | --- |
| 510 X 50.8 X 203.2 | 750 X 65 X 304.8 | 915 X 75 X 304.8 |
| 600 X 50.8 X 203.2 | 750 X 70 X 304.8 | 915 X 100 X 304.8 |
| 750 X 60 X 304.8 | 910 X 80 X 305 | – |